Executive Board 2019-2020
Lucy Armentano : Chair and Steering Committee Member 2019-2020

Lucy is a fifth-year Ph.D. candidate in Social and Personality Psychology.  This is her fourth year as a GSA representative and her second year in the leadership.  Her research focuses on emotional expression in close relationships, particularly the ways in which verbal and nonverbal emotional expression relate to characteristics of romantic relationships.  Lucy is particularly passionate about improving Diversity, Equity, and Inclusion within the Graduate School and ensuring that the administration receives clear communication from students regarding our needs and interests.
E-mail: lucylle.armentano@yale.edu
Ryan Petersburg : Vice-Chair and Steering Committee Member 2019-2020
Ryan is a fifth-year PhD candidate in the Physics Department. This is his third year in the GSA and second year as an officer. His research focuses on developing novel equipment, such as high-precision spectrographs and laser frequency combs, to find Earth-like planets outside of our solar system. Before Yale, he received a degree in Physics with a second major in Music at the University of North Carolina at Chapel Hill. Through his position, Ryan is committed to improving internal systems of the GSA to strengthen the voices of departmental representatives and their constituents within the university.
E-mail:
ryan.petersburg@yale.edu
Maria Del Mar Galindo: Secretary and Steering Committee Member 2019-2020

Maria del Mar is a fourth-year in the English Department. This is her third year as a GSA representative and her first serving as Secretary. She has previously served as chair of the Service Committee. Maria's research is about last words in Early Modern English literature and book history: she looks at the ways in which people said goodbye to life, to each other, and to their work, and at the kinds of expectations, assumptions, and labor that are associated with leave-taking. This year, Maria is helping to lead the GSA's year-long Diversity, Equity, and Inclusion initiative. She sees the GSA as a body whose work is to provide graduate students with as many resources, information, and support as possible in order to help them build lives in which they are able to pursue their work and the things that fulfill them beyond that work. She's invested in opening more avenues for graduate students to form and deepen relationships with their advisers, with university leadership, with fellow graduate and professional students, and with the wider New Haven community.
E-mail: mariadelmar.galindo@yale.edu
Jeremy Gaison: Treasurer and Steering Committee Member 2019-2020

Jeremy is a fifth year PhD candidate in the Physics department and serving his second year in the GSA. He received his undergraduate degree dual-majoring in physics and mathematics at Drexel University. Currently, his research focuses on detecting neutrinos (subatomic particles produced in nuclear reactors) both as an avenue to search for new physics and to precisely measure differences in nuclear reactors based on their fuel composition. This is Jeremy's first year serving as treasurer for the GSA.
E-mail: jeremy.gaison@yale.edu
Jo Machesky: Conference Travel Fellowship (CTF) Director 2019-2020

Jo is a second year PhD student in Environmental Engineering. This is her second year in the GSA and her first year as the CTF director. Her research focuses on identifying and understanding non-traditional sources of air pollution. Before Yale, Jo received a degree in Environmental Engineering and Integrated Science from Northwestern University. Through her position in the GSA, Jo is committed to supporting graduate student conference travel and maximizing the effect of the CTF can have on the graduate student body.
E-mail: jo.machesky@yale.edu
Estella Barbosa de Souza: Academic and Professional Development Chair 2019-2020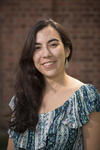 Estella is a sixth-year Ph.D. candidate in physics, focusing on dark matter direct detection with the COSINE-100 experiment. She is originally from Brazil and earned a B.A. in physics and astronomy from Bryn Mawr College, PA. This is her second year as a GSA representative and first as the chair of the Academic and Professional Development Committee. She looks forward to continue advocating for better professionalization and academic resources for graduate students at Yale.
E-mail: estella.desouza@yale.edu
Jenette Creso: Facilities and Healthcare Chair 2019-2020

Jenette is a PhD student in the Biomedical Engineering department. She is from Washington State but moved to southern California for her B.S. in Chemical Engineering from the University of California Irvine. Her current work uses engineered heart tissue to study how genetic mutations that contribute to hypertrophic cardiomyopathy affect heart biomechanical properties. This is her second year as a GSA representative, and her first as Chair of the Facilities and Healthcare Committee. She is looking forward to improving graduate student life through projects focusing on issues such as dental care, mental health, and affordable housing. 
E-mail:
jenette.creso@yale.edu
Meaghan McGeary: Transit and Security Chair 2019-2020

Meaghan McGeary is a PhD candidate in Experimental Pathology, studying the impact of epigenetics on tumor heterogeneity immune responses in melanoma. Originally from Bolton, CT, Meaghan received her BA in Music and Biology in 2016 from College of the Holy Cross in Worcester, MA. She enjoys playing the piano, and running in New Haven and around New England. She is passionate about working towards a more safe and accessible Yale campus, and is excited to lead the Transit & Security Committee in projects advancing these goals in 2019-2020.
E-mail: meaghan.mcgeary@yale.edu
Megan Kelley: Service Chair and Steering Committee Member (Science and Engineering) 2019-2020

Megan Kelley is a third year PhD candidate in Neuroscience with a focus on social neuroscience and social robotics. She was born and raised in Georgia and received her B.A. in psychology from the University of Georgia in 2010. She has lived in the New Haven area for five years and is passionate about helping graduate students discover all the beauty, vibrancy, culture, and community that the city has to offer. Through her position as Chair of the Service committee, she is committed to amplifying the voices of Yale graduate students from underrepresented backgrounds, collecting information about barriers to access and success, fighting to hold Yale accountable, and establishing programs for community building across graduate school departments and the broader New Haven area.  She asks that if you as a graduate student feel you are facing unjust barriers to your success—especially those that relate to background and identity—that you contact her or your representative within the GSA.
E-mail: megan.kelley@yale.edu
Zach Michielli: Public Relations Chair 2019-2020

Zach is currently in his fourth year of the Ph.D. program in the history and theory of architecture at YSOA. He was previously an architectural designer in Los Angeles, CA, and Washington, DC, a high school science teacher in Milan, Italy, and a particle physics researcher in Mozumi, Japan. Originally from the DC/Baltimore area, Zach earned a B.A. in math and physics from Swarthmore College, a M.Ed. in secondary from Michigan State University, and a professional M.Arch. degree from The Southern California Institute of Architecture. He is currently the chair of the Public Relations Committee and will beat you at a thumb war.
E-mail: zachariah.michielli@yale.edu
Steering Committee Members
Carl (CJ) Rice: Steering Committee Member (Humanities) 2019-2020

E-mail: carl.rice@yale.edu